Photoshop Elements - 8 weeks
Location: Burlington Central Library, 2331 New Street
Room: Holland Room, Times: 6:45 pm to 8:45 pm
Thursdays: January 10th – February 28th
Learn the techniques to improve and enhance your photographs and bring out their best using the program Photoshop Elements. From basic corrections to more complex changes discover how to bring out the hidden potential of your photos where the camera original image is only the starting point.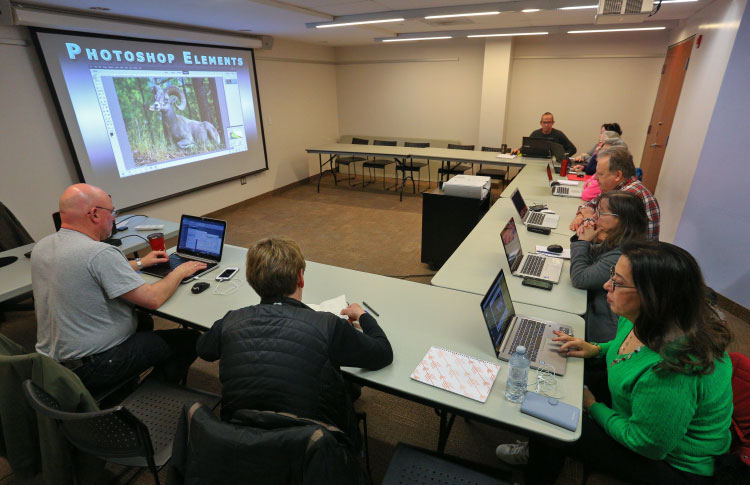 Learn how to organize your images and understand the program workspace, image resolution, image size & cropping, making selections, density & colour correction, photo retouching, photo montages, how to use digital filters to create artistic manipulations and how to include text with your images.
If you have a laptop with Photoshop Elements installed, you are welcome to bring it to the course as no computers are supplied in the classroom. Handout material will be provided to summerize each class.
Week 1 - Introduction to the program interface.

An overview of the working space and layout of the program.
-Importing images and using the Organizer to catalogue your pictures.
-Introduction to the Editor interface and overview of tools.
-System calibration.
Week 2 - Resolution/Image size.

How image size and resolution are related to image quality.
-The relationship between pixels and image size.
-Using the cropping tool to get common print sizes.
-Image quality and file formats.
Week 3 - Using the Selection tools.

How selection tools are used to work on parts of an image.
-The use of the rectangular and circular marquee tools.
-Magic wand and Lasso tools.
-Making complex selections.
Week 4 - Density and Colour correction.

How to correct density and colour on any image.
-Density correction using levels, brightness & contrast.
-Colour corrections, hue & saturation and variations.
-Black & white conversions.
Week 5 - Photo Retouching.

How to fix and restore images that have problems.
-Getting rid of image flaws and unwanted elements.
-Removal of unwanted objects.
-Retouching portraits.
Week 6 - Photo Montage.

Combining two or more images.
-Cutting and pasting.
-Cloning one image onto another.
-Using layers to blend image components.
Week 7 - Effects filters.

Using digital filters to enhance your images.
-Using Sharpening & Bluring selectively.
-Using textures.
-Creating special "art" effects.
Week 8 - Using Text.

How to incorporate text with your photographs.
-Selecting type fonts and changing spacing.
-Using creative type styles that work with your images.
-Drop shadows, outlines and 3D type effects.

---
Course fee: $224.95
Please register via e-mail first and once I have confirmed
a spot is available you can pay for the course through PayPal
using a credit card or PayPal account.
Or via mail at:
Burlington PhotoWorkshops
2 King St. W.
Jackson Station
P.O. Box 57095
Hamilton, ON
L8P 4W9
(Please make cheques out to "Paul Sparrow")